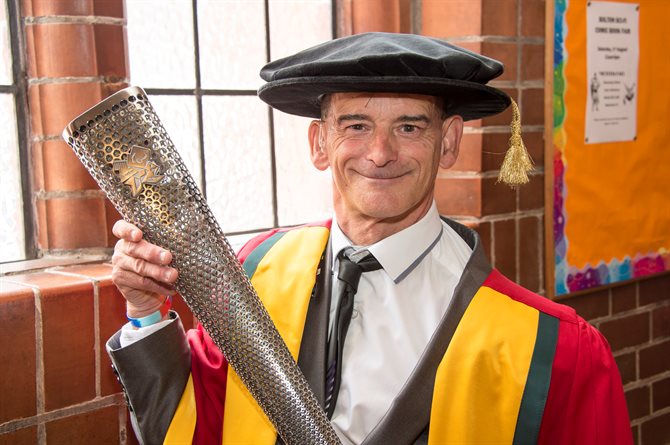 Tony with his olympic torch after receiving his honorary doctorate from Bolton University on Friday 17th July 2015.
More information
---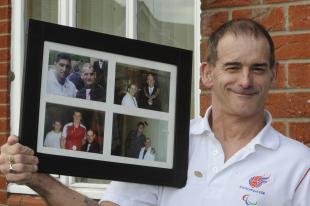 Tony holding a picture of himself with, clockwise, from top left: Amir Khan, the Mayor of Bolton, Cllr Anthony Connell, Vernon Kay and Jason Kenny.
Tony was born with cerebral palsy in February 1960. He went to his first Paralympics in the south of France aged just 16 and travelled again with the British team to Holland in 1980.
But four years later came his most successful event to date, the 1984 Paralympic Games in New York.
President Ronald Reagan opened the games and Tony even found time to call his mum from the top of the Empire State Building.
"It was a very special moment, meeting the most powerful man in the world" he said. "It was a split second thing at the opening ceremony. He shook everyone''s hand."
"We were treated like stars there. It didn''t matter whether you were in a wheelchair or not. But it has taken a long time to get the same reaction in this country. I called my mum after I got a silver in the weightlifting. I was disappointed to be honest because I had trained so hard and I wanted the gold. But I guess I didn''t do too badly."
Tony brought home two golds, for javelin and the Indian club —and two world records to boot.
His world record throw of 50 metres in the Indian club,— an event similar to the hammer —stands to this day.
In his 10-year career, the Bolton athlete won a total of 38 medals.
When his mother died in 1989, he buried the medals with her. "She was the driving force behind me," he says. "She sacrificed so much. I never thought of myself as disabled. She taught me to be independent."
The 1986 Commonwealth Games marked his last sporting performance on the international stage, as he settled down to start a family.
Tony was named the towns Sports Ambassador for 2009 by Bolton Council.
New York - 1984
Paralympic powerlifting has been competed at every Summer Paralympics since 1984.
Weightlifting had been on the Paralympic program since 1964, however after the 1992 Games the IPC decided to drop weightlifting and hold powerlifting events only.
Women first competed in the sport at the 2000 Sydney Paralympics.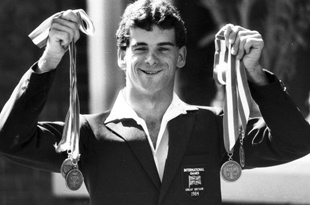 Message received from Sticklepath Community Primary Academy School, Barnstaple on 30th January 2020
"Hi Tony

I thought you might like to see some of the comments I have received following your visit:
"I liked looking at the medal that he brought in from the queen" - Jenson
"I liked looking at and feeling the paralympic torch" - J
"I liked looking at his paralympic t-shirt" - S
"What a great afternoon. The Year 1's were captivated by Tony and they didn't want him to leave!" – Yr 1 Teacher
"It was an honour to meet such a sporting legend and to see the London 2012 Paralympic torch, given to only one English man, was incredible. What an inspirational man!" - Reception Teacher
"Thank you for visiting our class the children were inspired by your visit." – Nurture Class
"My son never willingly gives up information about his day but clearly something stuck with him from this visit which is amazing because he actually sat down and told me all about it straight away when he got home this afternoon, he even asked me to take a photo of his hand that Tony signed! My daughter was very impressed he had so many medals." - Parent
---
Tony is now proud to be the patron for
---
---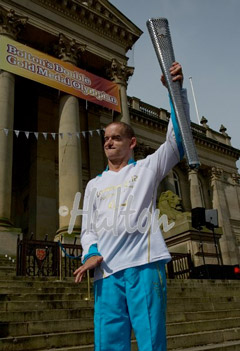 Would you like Tony to appear at your event, function, conference?
Charitable events are a fixed price to cover expenses to be agreed with the organisers. All other events fees to be agreed depending on the venue.
Contact Tony on 07933-238927 for further details.
---
Tony's book is currently being written by established Author Sara Vernon.
For any enquiries contact Tony on 07933-238927
---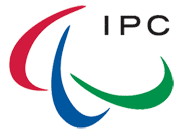 International Paralympic Commitee
The International Paralympic Committee (IPC) is the global governing body of the Paralympic Movement. The IPC organizes the Summer and Winter Paralympic Games, and serves as the International Federation for nine sports, for which it supervises and co-ordinates the World Championships and other competitions.
The IPC is committed to enabling Paralympic athletes to achieve sporting excellence and to developing sport opportunities for all persons with a disability from the beginner to elite level. In addition, the IPC aims to promote the Paralympic values, which include courage, determination, inspiration and equality.
---
External Links
---
Special thanks to the Bolton News, Hulton Photography and all the sportsmen & celebrities concerned for their kind permission to use the photographs displayed on this website
---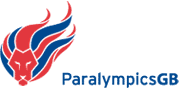 The British Paralympic Association (BPA) is a registered charity which is responsible for selecting, preparing, entering, funding and managing Britain's teams at the Paralympic Games and Paralympic Winter Games.
The Paralympians' Club is exclusive to athletes that have represented Great Britain at a Paralympic Games. This site profiles some of Great Britain's Paralympians and contains members-only benefits to those that have joined this unique club.
---
News Articles
---
Photo's
---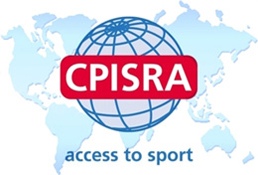 Cerebral Palsy International Sports & Recreation Association
Our vision - A world where people who have cerebral palsy or a related neurological condition have the opportunity to participate in the sport and recreational activity of their choice.